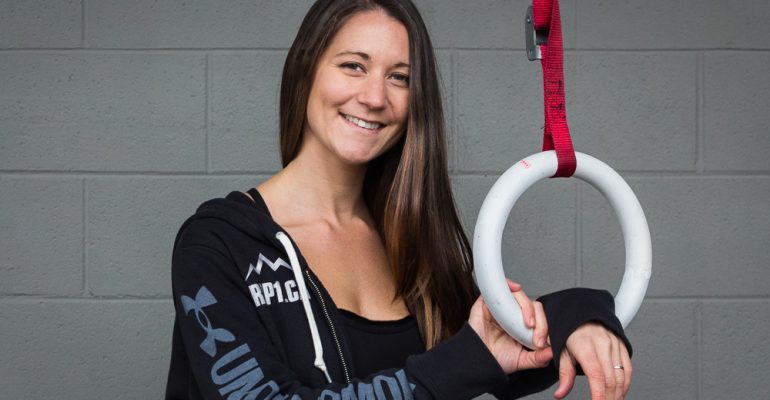 Krista Brewer
Don't let this quiet girl from the island fool you… you'll be out of breath and sweating in her sessions before you know it. Not only does Krista come with several years experience in the industry but she also recently became a 'bikini champion'. She won her first fitness competition ever (bikini division) and swept all the categories… she retired soon after! When Krista is not training her full client list she can be seen putting her time in on the cardio or hitting the weights. If you get a chance to train with Krista she will not only win you over with her smile but also with the care she puts into giving you a great training routine. Look for Krista running with her dogs and husband in the trails around Vancouver; just don't try and keep up to this team!
If you could have lunch with any famous person, living or dead, who would it be?
Ellen Degeneres- she cracks me up.
If you weren't a personal trainer, what career would you choose?
Chef- I love cooking. I like to take traditional dishes that aren't typically healthy options, and transform them into a cleaner, healthier version. I can sneak leafy greens into almost anything!
What was your first job? And what did you learn at that job?
I was a server all the way through high school and college. I gained an incredible amount of respect for the service industry- you have to deal with a lot of "special" people. Although serving isn't exactly mentally challenging, it requires exceptional time management, and multi tasking skills.
One of your early life accomplishments was?…
I was in an outdoor recreation class in high school, and one of our trips was a hiking trip up Mount Albert Edward. It was 4 days in the snow, up a mountain with 50 lb packs. It was the most mentally and physically challenging experience of my life.
What are you known for professionally?
I spend a lot of time working on core strength, stability, balance, and proprioception with my clients. Most people have no idea how bad their balance has become over time, and how it affects or inhibits there everyday movements. I think my clients will also tell you that they appreciate these "active recovery" exercises during their hardcore workouts!
If you got off from work early Friday afternoon what would you rush to do?
Take my dogs for a run around Stanley Park… anything to tucker out two 80lb dogs makes my life a lot easier.
What is the one 'cheat' food, or drink, that you can't avoid?
I can't say no to a cold beer on a hot day!