We all love to work out! Run, jump, lift and sweat.
The problem, long term, often lies in the fact that we neglect the maintenance of our bodies. "Push harder" we say to ourselves… and this is the only thing we say! Eventually, this attitude will catch up with you. It might not be today but it could tomorrow or several months from now. Take the time with an RMT massage at Rep1 to release the muscles you've pushed to the limit or work out that kink that has been with you for weeks.
Doing NO maintenance on your body is like doing no pit-stops with a race car. So stop just doing laps and come in for tune-up! Once our trainers wind you up, you can soothe those sore muscles with a targeted or full body massage from our certified massage therapist.
Total body care is our goal at Rep1 and that doesn't stop at building muscle or making you sweat!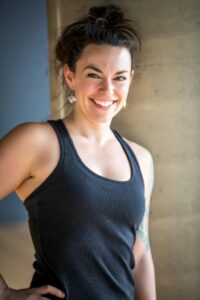 JES VON HENZKE, Registered Massage Therapist:
Jes has had the gift of massage in her hands from a young age and intuitively knew the power of healing touch. It wasn't until she was involved in a major car accident which left her in a wheelchair, that she really understood how healing it could be. Rehabilitating from that trauma was the catalyst that taught Jes how to really connect to her physical body. With a healthy dose of massage therapy, physiotherapy and chiropractic, Jes got back onto her feet and started moving her way through life.
A few years later, Jes found yoga to be the best form of physical, mental, and emotional connection and therapy available, and dove head first into taking her first yoga teacher training program. After a decade of teaching yoga and offering intuitive massage, Jes decided to further her education at Langara College and join the Kinesiology program. From there, she jumped on the chance to join the inaugural cohort of the Registered Massage Therapy Program at Langara, graduating in 2015 and becoming an RMT in the Spring of 2016.
Jes keeps herself busy providing massage therapy at Rep1 Fitness, teaching in the Yoga Teacher Training Certificate Program at Langara College, powerlifting to stay strong and stable, hiking to maintain perspective and connection to the Earth, and spending quality time with her family and friends.
Book your free fitness assessment
We evaluate your fitness, make a plan & you get your first workout for free ($150 value)