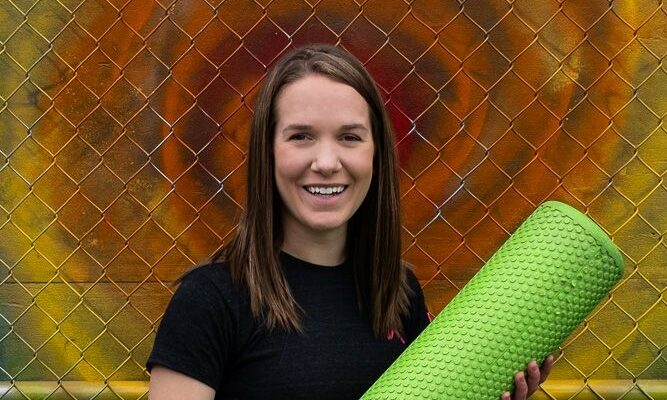 Elizabeth Stulen
Meet Beth! A keen cyclist who was born in the Ontario farm country… and who still brags about riding in Ontario farm country! At a young age Beth participated in many sports: tennis, basketball, soccer and track. She carried this track career to Queen's U where Beth ran cross country and then focused on her true love… CYCLING! At Queen's University Beth did her undergrad and completed her Kinesiology degree (she would like us all to cheer: "GO GAELS!"). During the summer months of her undergrad Beth lived in different mountain towns and fell in love with the slower lifestyle; that might be why she has settled into living at the base of Seymour in Vancouver. Look for Beth on the mountain bike trails of North Van or in the mountain's Nordic regions crushing it on the cross-country skis… just don't try to keep up!
Click here

to book a free consult and tour

Want to read some random facts about Beth? Read on:
Your favorite piece of fitness equipment?
Besides the bike, I'm a big fan of bosu balls. Strengthening the muscle groups that contribute to balance supports healthy movement patterns that are essential for training, sports, and functional fitness. I think anyone who makes the effort to incorporate fitness into their lives should be celebrated, no matter what form it takes!
If you could be anyone else in the world who would it be?
Clara Hughes, not only is she an extraordinary multi-sport Olympian but she has used her platform to destigmatize mental health. She is an inspiration to athletes everywhere, especially women.
If you weren't a personal trainer, what would you do?
I would probably be a chef, I love to cook and think everything can be improved with fresh basil. But not a chef that has to cook for 100 people, more like one that just gets to try out new recipes.
What was your first job? And what did you learn at that job?
I worked as a waitress starting at age 16 and there is nothing like juggling 6 tables on 6 different timelines to teach multi-tasking, time management and how to maximize efficiency.
One of your early life accomplishments was?…
I won the Chancellor's Scholarship at Queen's University for a piece I wrote about the impact of my grandfather's Alzheimer's Disease on myself and my family.
What game show Jeopardy category would you slay at?
Anatomy … or Taylor Swift's entire discography.
What is the one 'cheat' food, or drink, that you can't avoid?
I LOVE artisan cheese and charcuterie. I have no control around a baked brie or aged applewood cheddar. Throw some spicy jelly in there and you may just witness a happy dance.
Your favorite Superhero is?…
I admire Iron Man for his ingenuity and Thor for his hair.
What was your favorite toy as a kid?
I got a mini basketball for Christmas one year and spent the following days roller blading around my basement, dribbling my ball and listening to the Lizzie McGuire Soundtrack on my Walkman. Life was so sweet.
What is the one thing that nobody knows you can do?
I spent a year working in a running gait lab and I can clean and analyze complex data sets using the Python programming language. I even have some experience with machine learning algorithms.
Your favorite vacation spot is ______ because?
Either South Eastern Europe for the road biking (and the cheese) or Scandinavia for the hiking.