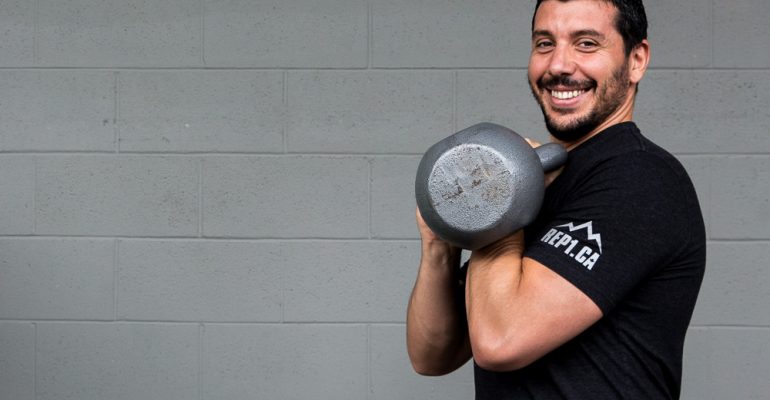 Gui Spiteri
After completing his sports management degree this French 'guy' came to Vancouver 8 years ago to learn English. After meeting his girlfriend, he decided to stay in Canada and quickly started making his mark in the personal training world. Working in Vancouver and then Toronto at Snap Fitness Facility (but realizing that TO is WAY too cold), Gui came back and blessed us with his expertise. This all-around fitness guru specializes in judo (yes, he is a black belt folks) and he loves to throw around the kettlebells. Look for Gui competing in the local obstacle course races and spending his spare time chasing his fitness levels of his 20's! It is great to have Gui on the Rep1 team. His drive for the future will take him far; in fitness and in business! (read more fun facts about Gui below)
Click here

to book a free consult and tour
What is your favorite piece of fitness equipment?
Russian kettlebells, by far! I love them because they are scary and painful! Seriously they can be used for every level of fitness, from new mums to high level athletes, from post rehab to athletic performance. They allow you to get stronger and lose weight without bulking up.
Your favorite Superhero is?…
The hulk, I heard he trains with kettlebells.
If you weren't a personal trainer, what would you do?
Dog trainer! Dogs brings lots of joy in your life.
If you could be anyone else in the world who would it be?
Cesar Milan, I love how he makes people realize they are causing the problem.
One of your early life accomplishments was?…
Getting my black belt in judo at age 15, one year earlier than I was technically allowed to. Either that or finding the key to the snack cupboard as a kid.
What is the one 'cheat' food, or drink, that you can't avoid?
Calisson, it is a French sweet that I always loved. Every Christmas my mum send me a box with 1kg of callisson. They are part of the reason why I traditionally gain 10-15 lbs over Christmas every year…
What was your favorite toy as a kid?
A computer. I was a real computer geek when I was younger.
What is the one thing that nobody knows you can do?
Play Diabolo, it is a circus toy! Haven't played in years, but can't wait to start again.
Your favorite vacation spot is ______ because?
South of France. Best combination of food and weather!!! Unfortunately it is full of French people…