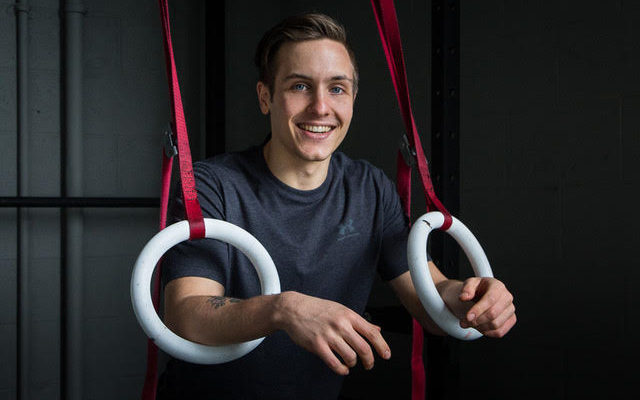 Jack Stevenson
Born in Montreal, Jack (Jacques) moved to Vancouver at the age of 9 months old, and he has stayed here ever since!  Having played soccer and hockey all his life, Jack knows the life of the athlete.  His big passion growing up, though, was skateboarding!  Watch for those balance exercises in the gym from Jack.  He is currently deep in the Kinesiology program at University because he "loves learning about the human body, believes in an active lifestyle, and helping clients achieve their goals".  And it may sound cliche but Jack's favorite part of being a trainer is "seeing progress in my clients. Whether that progress is measured on the scale, by improvements in cardiovascular health, or by reduced pain and discomfort, seeing progress in my clients is the thing that keeps me highly motivated and keen to get a lot done in our time together."  Now isn't that what a trainer should be about?  Great to have you on the team, Jack!
Click here

to book a free consult and tour
What is your favorite piece of fitness equipment?
The kettlebell because of its versatility, effectiveness and general good looks.
If you weren't a personal trainer, what would you do?
At 19, I went to culinary school and thought I wanted to be a chef. If I hadn't gotten into training, I imagine I'd still be involved in the restaurant industry. I like the idea of owning a catering company, due to the excitement regularly starting new projects. I also see myself running a cooking school for the average home cook or a small butcher shop in a neighborhood close to some good trails.
What was your first job?  And what did you learn at that job?
My first job was in a bakery in Granville Island. That one whipped me into shape. I learned to crack eggs with one hand, to be tidier, and that kitchens attract a wide variety of very interesting people.
What game show Jeopardy category would you slay at?
Skateboard trick names. Or traditional ingredients for specific cuisines.
What is the one 'cheat' food, or drink, that you can't avoid?
I'm pretty hopeless around Italian food. Italian food prides itself on its simple recipes and use of good quality ingredients. That is something I resonate with. Pancetta, Olive oil, house-made pasta, fresh-picked tomatoes. That is very difficult to beat.
What was your favorite toy as a kid?
Probably a soccer ball. Or a skateboard.
What is the one thing that nobody knows you can do?
In my current circle, not many know that I used to be quite a good skateboarder. But some do know that. I don't think anyone really knows that I can juggle.
Your favorite vacation spot is ______ because?
My aunt's place in Glen Sutton, Quebec, because there is a marvelous view, some gardening to do, and plenty of time to cook food, eat cheese, and drink wine with my family.