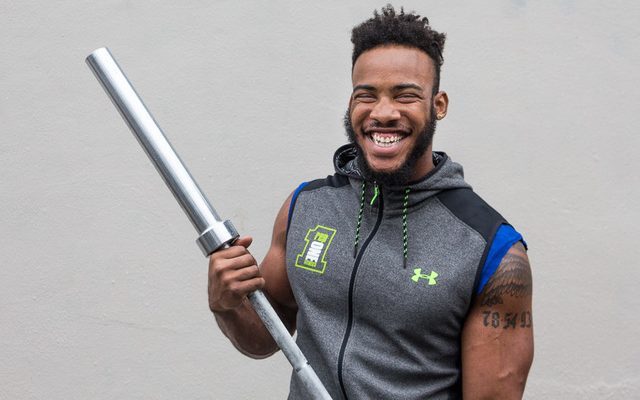 Jamiel Moore-Williams
Jamiel Moore-Williams is the company teddy-bear!  Not only is he the biggest person on the training floor he is the most likely to be seen with a big smile on his face.  This former UBC college football player comes to us from Toronto where he learned to 'lift' at an early age from his father.  Jamiel is not only able to squat the most weight here at Rep1 but don't challenge him to the speed ladder because he has some 'sweet feet'.   Look for Jamiel to challenge you to be your best, he knows what it takes to get results and will encourage you to do the same (maybe with lighter weight).
What is your favorite piece of fitness equipment?
I'd say the Dumbbell is my favourite piece of equipment because of it versatility. My favorite Dumbbell exercise has to be a supinated hammer press, I like to push my rep range above 20 and increase weight every set.  This is great for you Pec minor and Triceps!
If you weren't a personal trainer, what would you do?
If I wasn't a personal trainer I'd be a fire fighter.  I find being a fire fighter appealing because I generally love to help people. They get to save lives, kick down doors and pet the occasional cat… what more can you ask for?!
One of your early life accomplishments was?
One of my early life accomplishments was Being named MVP in grade 9 volley ball.  When I played Volleyball I was one of the tallest on the court at all times  (editor's note: shocker!).  I was also very athletic as well so I got to play every position, even setter.
What is the one 'cheat' food, or drink, that you can't avoid?
I follow a strict seafood only diet, been doing this for over a year now and I don't think I'll turn back. I made the switch because I wanted to get lean and challenge myself.